Subscribe: Apple Podcasts | Android | Email | Google Podcasts | Stitcher | RSS | More

Chad Elliot grew up a shy, home-schooled kid, but that didn't stop him from becoming Seattle's preeminent improv coach. In this episode, Chad talks about how he adapts improv techniques to help people improve their communication skills—not just on the stage, but in their personal and professional lives as well. We explore how we can adapt those same lessons to improve our interviewing skills, and what it means to be the best listener for our personal history clients.
Some of the things we cover:
Chad's childhood and the winding path that brought him to where he is today
Tony Robbins, hitchhiking, and ballroom dancing
Using dance as a way to break through social fears and to experience the physical power of touch
Keith Johnstone's influential book, Impro: Improvisation and the Theatre
Improv and its opportunity for people to be more expressive and better communicators
Viola Spolin and letting go of the ego
Leveraging the power of Meetups to attract new students and hone your teaching skills (brilliant idea, Chad!)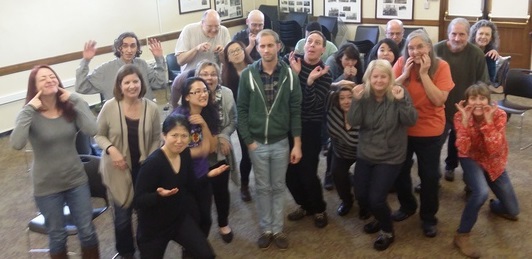 Brenda Ueland's beautiful treatise on the gift of listening to others
The main reasons people go into their own heads and stop listening to others
Paying attention to the gap between body language and what someone says
Establishing a sense of trust as a personal historian working with a new client
Using counterintuitive methods to turn off your own limiting filters
Story scavenger hunts
Taking a lesson from the great interviewer and journalist Cal Fussman
Priming your mind, then letting go
To connect with Chad, visit him at seattleimprovclasses.com. And be sure to check out his book, Improv Manifesto: 7 Easy Steps to Confidence, Creativity, and Charisma—Even if You're Shy!
If you like the show, help spread the word by leaving us a review on iTunes.
Thank you!